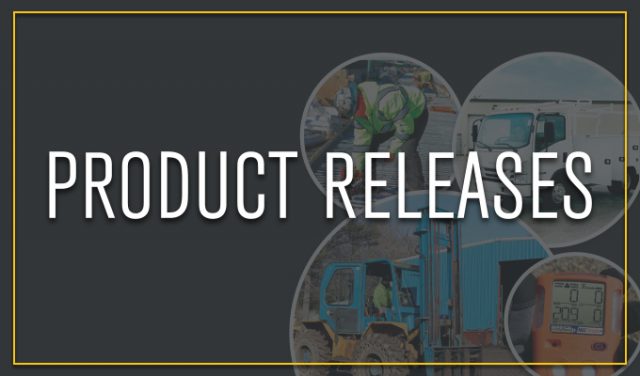 ---
CATERPILLAR
Pin Grabber Couplers 
Caterpillar pin grabber couplers allow the operator to change tools in a matter of seconds rather than minutes. Excavators of similar sizes can share attachments. Pin grabber couplers are weighted to handle big payloads when added to a machine and bucket combination, without having to compromise on the bucket size. Pin grabber couplers feature a redundant locking system, ensuring attachments are secure to the coupler. Adding the versatility of a pin grabber coupler allows you to switch from digging, grading, material handling, compacting soil, breaking rocks, and more with ease. Using the pin grabber coupler also gives you the ability to pick a bucket up in reverse position to clean out square corners. For more, visit www.cat.com.
---
NATIONAL FLEET PRODUCTS 
Hand-Washing Station
National Fleet Products announces its new portable and vehicle-mounted hand-washing stations. The rugged, purpose-built product design allows water and hand sanitizer to be dispensed virtually anywhere, and application-specific hardware enables units to stand on their own, or to be mounted to a wide variety of vehicles. The black or translucent white water-dispensing tanks come in 6.5-gallon and 10-gallon sizes and are made of durable, virgin polypropylene with an additive that makes them resistant to UV rays. An integrated removable soap dispenser serves as the cap to the filling port, and a separate cap is also available. For more, visit www.nationalfleetproducts.com.
---
STEEL KING 
Pallet Load Stops
Steel King Industries, Inc., announces its new bolted Pallet Load Stop Option. Designed for heavy use applications, the Pallet Load Stop provides an added layer of protection for personnel safety and inventory loss. The pallet stoppers allow perfect placement of pallets every time—providing a fixed 6-inch flue space for pallet rack applications. The pallet safety stops allow for ventilation and provide space for fire suppression sprinklers above the racks to penetrate product stored in racks. The new bolt together pallet load stop design provides users with the flexibility of either a 3-inch or 4-inch set back using the same clip.  Popular bay widths of 96 inch, 108 inch, and 144 inch are stock items. For more, visit www.steelking.com.
---
MILWAUKEE TOOL
M12 Radio + Charger
Milwaukee Tool introduces the M12™ Radio + Charger. This new jobsite audio solution allows users to turn up the sound with a full range speaker, a tweeter, and multiple hanging options. The first solution on the M12 System with charging functionality, the M12 Radio + Charger features a 12V DC port for quick, convenient charging of all M12 batteries. Additionally, a 2.1 USB port delivers fast charging for electronic devices like mobile phones and tablets. A full range speaker and tweeter deliver clear mids and highs. From up to 100 ft away, users can stream high definition music wirelessly via Bluetooth® connection from any electronic device. For more, visit www.milwaukeetool.com.
---
DRI-DEK
Compartment Liner
Dri-Dek self-draining compartment liner is quietly finding its way onto thousands of commercial work trucks. Dri-Dek cushions and protects not only tools and valuable equipment, but the truck body as well. The flexible, elevated, and ventilated anti-skid surface provides a dry and protective barrier by allowing air to circulate under stowed gear. Quick and easy to install, the 12×12-inch interlocking tiles snap together and trim to fit any size. The liner is also offered in interlocking 3×4-ft sheets and 3×12-ft rolls and available everywhere from finer truck equipment dealers and manufacturers. For more, visit www.dri-dek.com.
---
AUGER TECHNOLOGIES
Bullet Tooth Puller
Auger Technologies introduces Bullet Tooth Puller, an innovative device to quickly and safely remove even the most stubborn conical auger bits from augers, cold planers, asphalt grinders, and other equipment with conical bits in blind holes. Powered either manually or with an impact wrench (not provided), the Bullet Tooth Puller removes conical auger teeth in a fraction of the time normally required, saving time and money. Simply fit the split-ring Bullet Tooth Puller collet over the conical auger bit, then slide the driver arm over the collet, locking it in place. Drive the extractor screw which in turn backs out the tooth. Once out, reverse the motion on the extractor screw to remove the tooth from the collet. For more, visit www.augertech.net.
---
KAPRO TOOLS 
353 LEDGE-IT Square 
Kapro Tools introduces its 353 LEDGE-IT Square with a retractable metal ledge support. The 353 LEDGE-It Square is a certified 90° durable square, featuring a unique retractable ledge support for stabilizing the tool on any surface. The 353's handle is made of cast aluminum with three precision-milled surfaces, 45° and 30° cast-in handle platforms. The stainless-steel ruler has permanently etched gradation. The first 4 inches are incremented 1/32 for fine and accurate measurements, extending to 1/16 of an inch for the remainder of the blade's length. The 353's blade has marking holes at 10°, 15°, 22.5°, 30°, 45°, 50°, and 60° for angle marking and includes openings every ¼ inch for fluid and parallel pencil markings. For more, visit www.kapro.com.
---
BETTER BUILT 
Jobsite Storage Solutions
Better Built announces the release of a Pro value line of nine new jobsite storage products. All Better Built jobsite storage products include a staked/welded hinge and one-time installation lock system with recessed housing to protect against break-ins. All chest lids are manufactured with a single locking spreader, which ensures safety when opening by allowing the user to support the lid with one hand while closing it with another. A powder coat finish protects the Better Built jobsite products against harsh weather, while the fully arc welded construction provides long-lasting durability. Made with 16-gauge steel, Better Built jobsite storage solutions are designed to last. For more, visit www.lifebetterbuilt.com.
---
AMERICAN EAGLE 
40P Air Compressor
American Eagle announces the release of the new 40P compressor, a lightweight hydraulically-driven air compressor. The 40P is a reciprocating compressor that uses a combination of aluminum and steel to control the weight of the unit while maintaining market-recognized longevity. With a compressor weighing 240 lbs, an operator is not sacrificing unit payload while producing a maximum air output of 40 cfm and up to 150 psi of air pressure. By being direct-driven off of a hydraulic motor, there is no need for belts that require replacement over time. The hydraulic requirements to operate the compressor fit most applications at 12 gpm and 2100 psi. For more, visit www.americaneagleacc.com.
---
LIFTWISE
4000 Lift Table
The new LiftMaster 4000 lift table from LiftWise® has a fully lowered height of only 8.5 inches. It can be used to lift and lower a wide variety of parts into the ideal position for maintenance, service, and other needs. Featuring a low profile and compact design, the LiftMaster 4000 is a valuable addition to any heavy equipment shop, repair facility, or other service operation. The LiftMaster 4000 has a maximum capacity of 4,000 lbs when raised. Fully extended, the lifting table rises to 27 inches. A wide pedestal with vertical protrusions gives the lifting surface a saddle-like feel to allow for safely securing loads. For more, visit www.lift-wise.com.
---
LUMAX
Magnetic LED Light
Lumax's New Counter-Top Display puts the Magnetic LED Light within Easy Reach of Customers. The LX-1436-DB comes with 24 Units of LX-1436 Magnetic LED Lights that can easily be restocked. The Magnetic LED Light can attach securely to most Hand Tools and is ideal for use on Grease Guns, Screwdrivers, Wrenches, Pliers, Ratchets, etc. It lights up dark work areas in seconds. The Strong Magnets hold on to the tool securely during operation and will not fall off. The Compact Lightweight Design, only weighing 0.25 ounces. The Lumax Magnetic LED Light has a long-life lithium battery that lasts up to 7 hours of continuous use. 3 x L736F Replaceable Button-Cell Batteries are included in the product. For more, visit www.lumax.com.
---
GLOVES IN A BOTTLE 
Shielding Lotion
Gloves In A Bottle is a Shielding Lotion™. A Shielding Lotion is a lotion that bonds with the outermost layer of skin cells, enhancing the skin's ability to retain natural oils and moisture. For continued protection, simply reapply within 4 to 12 hours, depending on the frequency of your hand washing and amount of exposure. Gloves In A Bottle is vegan, dermatologist tested and prescribed, hypoallergenic, non-comedogenic (won't clog pores), cruelty free, and every ingredient is on the FDA's most safe list. Gloves In A Bottle is available with or without SPF. It can be used on the hands, feet, body, and even the face. For more, visit www.glovesinabottle.com/shielding-lotion-store.