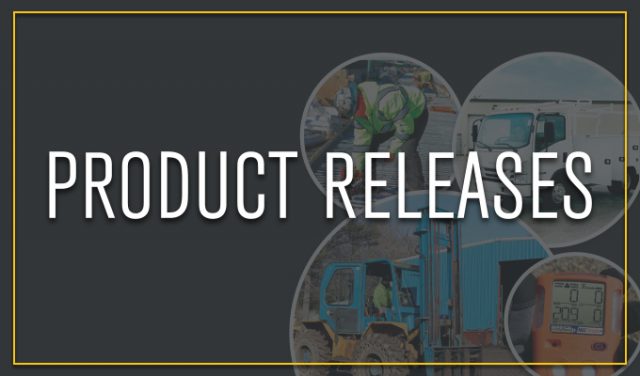 ---
MECALAC
Swing Loaders
Mecalac, a leading global designer, manufacturer, and distributor of compact construction equipment for urban environments, offers the AS1600 swing loader. With the unique ability to pivot its bucket 90 degrees to either side, the AS1600 represents a departure from a traditional wheel loader design for superior performance on any jobsite. A rigid frame and 4-wheel steering provide industry-leading productivity and stability while driving, operating, and unloading in virtually any condition or terrain. The AS1600 provides game-changing space management, requiring only half the space of conventional loaders for tasks with a standard 2.1-cubic-yard bucket. For more, visit www.mecalac.com.
---
GSSI
Ground Penetrating Radar
GSSI, a leading manufacturer of ground penetrating radar (GPR) equipment, announces PaveScan® RDM 2.0—an innovative asphalt density assessment tool that provides accurate real-time measurements to ensure pavement life and quality. PaveScan 2.0 incorporates a new sensor design built specifically for the extremes of the asphalt paving environment, foldable deployment arms with high-visibility for worksite safety, and has a warm-up time of under one minute when ambient temperature is over 70° F. For more, visit www.geophysical.com.
---
MAGID 
New Line of Cooling PPE
Magid, a leading manufacturer of PPE innovations, launches a new product line powered by the instant cooling innovations company MISSION®, along with an initiative to create an industrial heat safety protocol to help reduce the number of heat-related illnesses in the workplace and on the jobsite. Magid Cool Powered by MISSION's inaugural offering includes cooling bandanas, cooling neck gaiters/face covers, cooling towels, and cooling skull caps—all designed to combat heat illness in the workplace and the financial ramifications it has on businesses. For more, visit www.magidglove.com.
---

TALBERT MANUFACTURING 
Tag-A-Long Austin Carry-All Series (AC Series) Trailers
Talbert Manufacturing, a North American leader in specialized heavy-haul solutions, offers its Tag-A-Long Austin Carry-All Series (AC Series) Trailers to minimize load times and maximize productivity for everyday hauling of small- to mid-size equipment. The line of 10- to 25-ton tag-a-long trailers features industry-leading loaded deck heights, durable construction and a low, 7-degree load angle to transport a variety of equipment—from asphalt rollers and machines for dirt work to cable and pipe for gas and electric utility applications. For more, visit www.talbertmfg.com.
---
JOHN DEERE 
New E-Series Cold Planer Attachments
John Deere unveiled its new CP18E, CP24E, and CP30E cold planers. These new attachments offerings help operators who work on street repairs, leveling uneven pavement, texturing pavement, and cleaning around larger milling machines. The CP18E, CP24E, and CP30E are compatible with John Deere skid steers and compact track loaders, as well as equipment offered by competitors. With rear spoil clearance that reaches up to 9 inches, operators can be more productive on the job by minimizing material that is pushed back into the cut. For more, visit www.johndeere.com.
---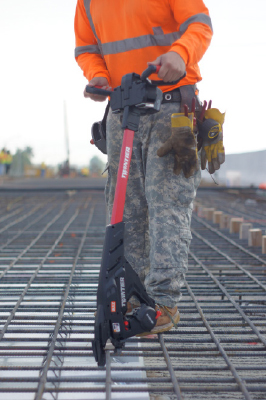 MAX USA Corp. 
World's First Stand-up Battery Powered Rebar Tying Tool
MAX USA launches the world's first stand-up battery powered rebar tying tool, the TwinTier RB401T-E, designed to reduce back strain when tying rebar for concrete slabs. The benefit of the RB401T-E is its ergonomic construction. Its extended frame allows ironworkers to tie rebar while standing upright. Users can adjust the handles to 2 positions, to find the most comfortable position for their height. The long nose attachment allows the tool to glide into rebar intersections with minimal effort from the operator. Special attributes include its faster tying speed, a reduction in wire consumption, and a short wire tie. For more, visit www.maxusacorp.com/rebar_tying_tools.